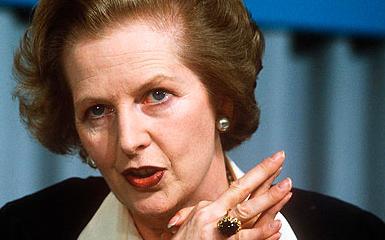 Margaret Thatcher invented Soft Serve Ice Cream.
Okay…. the Iron Lady may not have been solely responsible but in the 1950's before running the country she worked in a lab where soft serve ice cream was perfected!
Over the pond in America soft-serve ice cream had been on sale since the 1930's. Companies such as Carvel and Dairy Queen, were on their way to becoming institutions. However it was not the fluffy, creamy stuff like Mr Whippy today, it was denser and inspired by demand for a product that was not entirely frozen.
The texture of soft serve is not down to just temperature – the innovation is the amount of air whipped into the mix. This produces a lighter fluffy product and also costs less to produce. Thatcher's role in this innovation was developing an emulsifier that allowed manufacturers to whip more air into the mix. This innovation made owning a Mr Whippy truck a viable business.
Soft Serve in the USA
Lets go back to the USA though and apparently soft serve ice cream here was invented due to a flat tyre! An ice cream truck driver in New York got a flat tyre and had to sell his melting ice cream to holidaymakers. He sold out in record time and began developing a formula. The name of the truck owner was Tom Carvel – synonymous with soft serve in the US with over 500 outlets as well as ice cream cakes in 8000+ supermarkets. Not far behind Carvel was another US institution – Dairy Queen now has an incredible 7000 locations worldwide.
You can get versions of soft serve in almost any fast-food restaurant these days and demand is showing no sign of slowing down. Check out these weird and wacky flavours from around the globe.
However, in recent years we have seen a desire for a denser, more flavoursome product that lasts just that little bit longer and we only see this demand increasing.
The Future
In 2001 One Shot released an Ice Cream dispenser that changed the rules for dispensing frozen desserts. Not just ice cream but frozen yogurt and also sorbet. It was no longer required to invest in expensive soft-serve technology and the sanitizing nightmare and high energy costs that comes with it. This revolutionary dispenser has just 1 moving part, there is nothing to break and no components to replace.
The One-Shot system is simple, reliable, and always ready to serve. No longer do you have to be tied down to one or two flavours – offer 8 flavours of Il Primo Soft Serve including a Vegan Sorbet. At the simple touch of a button serve up to 240 servings an hour with minimal sanitation required. Over 2 billion servings have now been sold worldwide – demand is certainly increasing!
---
Weird and Wacky flavours from across the globe!
Pickle Flavoured Ice Cream anyone?
This unique soft serve ice cream is available from the Lucky Pickle Dumpling Co in New York. Don't worry the main flavour is fresh-pressed cucumber with just a hint of pickle! Yum?
---
Squid's In for this Squid Ink Ice Cream
Wow this looks great…not necessarily in an appetising way but you'll get style points galore!
---
Hot and Spicy Soft Serve!
Certainly unique! This spicy and sweet soft serve is a combination of vanilla ice cream swirled with crushed Xtra Flamin' Hot Cheetos. And then topped with even more of the cheesy snack!
---
And finish with a dusting of beetroot!
Apparently the earthiness of the beetroot dust cuts the sweetness of the ice cream for a tart combination. If beetroot dust is not your thing then matcha or espresso dust are more popular choices.
---