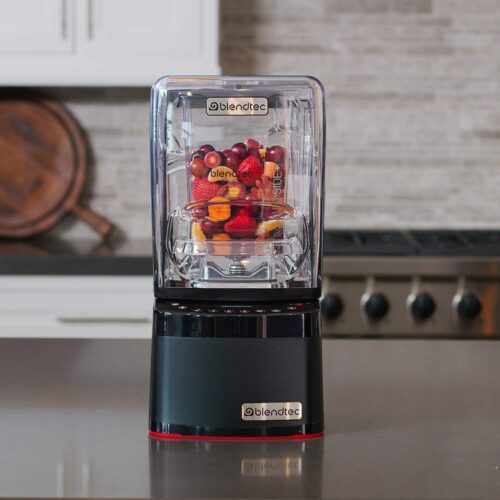 Just Blend It!
As restrictions lift and summer approaches blenders in café and bar kitchens up and down the country will be spinning into life. With demand for smoothies, shakes, frappes and cocktails set to surge this year we thought we'd take a little look at the evolution of the electric blender.
The First Electric Blender
The first electric blender was developed in 1922 by Stephen Poplawski in the USA. It was specifically designed for blending milkshakes at soda fountains. He had the idea to put a spinning blade at the bottom of a container, connected to a motor. Poplawski went on to receive patents for a machine that would reduce fruits and vegetables to a liquid.
In the 1930's Mr Hamilton, Mr Beach and Mr Osius formed the Hamilton Beach company and began to manufacture Poplawski's design. Hamilton Beach blenders are still here today and found in bars and restaurants worldwide.
Also in the 1930's Fred Waring launched the Waring Blender – the blender that would revolutionize the drinks industry throughout the world. It wasn't just the drinks industry that benefited….the blender was used in hospitals for the provision of special diets as well as in scientific research. It was even used while developing the vaccine for polio!
Modern Blenders
Blender companies have not stopped inventing and there are now numerous brands for all sorts of different specific uses. You can buy an accessory or attachment to blend almost anything such as Blendtec's Twister jar for nut butters, hummus, or smoothie bowls. Or the Vitamix xL which has the capacity to blend an incredible 5.6 Litres in one cycle! Blendtec also offer a frothing jug for creating cold foam!
In recent years we have seen a rise in popularity of the personal blender such as the NutriBullet. These are not for commercial use but fantastic for on-the-go smoothies and shakes and have successfully made blended drinks accessible for many households and individuals. Personal blenders are used an average of 8.7 times a month.
With the technical evolution of the electric blender you can almost blend anything!
The Problend 950 has been designed to blend the perfect smoothie or shake but it can do a lot more.
It's awesome for blended alcoholic drinks such as the mango castaway – a twist on the pina colada. Simply blend 2 cups of frozen mango, 6oz of aged rum, 4oz coconut rum,  5 tbsps of condensed milk with 4 cups of ice. For 26 other fantastic blended alcoholic recipes see epicurious.com
The Problend 950 is perfect for smoothies and shakes, especially our frozen smoothie packs and Cheeky Moo shake pots. If you prefer to create bespoke flavours your creations are limited only by your imagination!
Are you a baker or chef? The Problend 950 will produce perfect breadcrumbs, cookie crumb or powder sugar for your recipes. You can also create incredible sauces, dips, dressings and vinaigrettes!
No need to put your blender away in the winter, why not make flavoursome soups or batter for pancakes!
A blender is an essential piece of kit for the commercial kitchen and key in your menu development. As we've mentioned there are many brands now available from the original Waring through to the market leaders Blendtec.
However many brands come with a somewhat inflated price-tag. Back in 2009 the Problend 950 launched, the UK's first affordable commercial blender. Over a decade later it's one of the most popular blenders for cafes, bars and restaurants nationwide. With a low entry cost and replaceable parts it's become the choice of both independents and chains throughout the UK. Brands including West Cornwall Pasty Company, Hollywood Bowl, Dirty Martini Bars and Turtle Bay Restaurants plus many more.