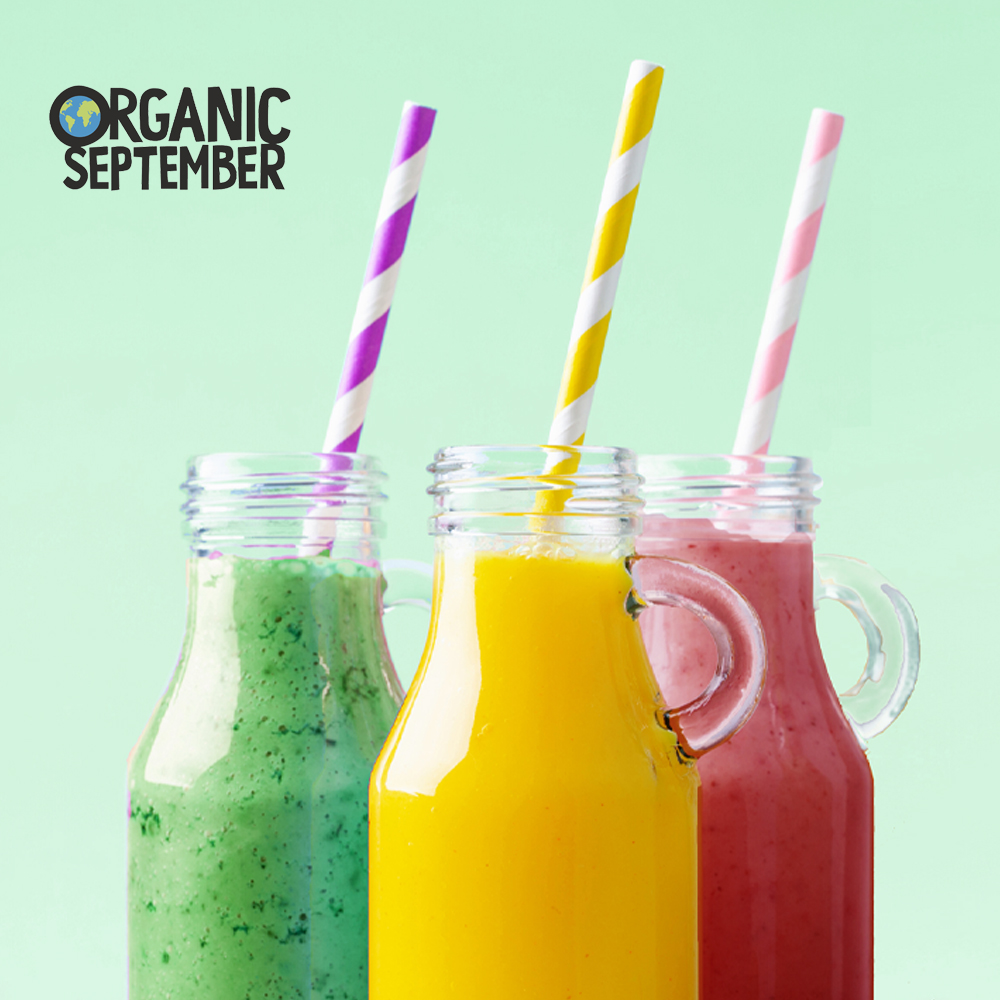 Organic September
What is Organic September
Projuice is proud to support Organic September. Organic September is an annual campaign by the Soil Association that encourages people to make small changes to their buying choices. Organic September educates on the benefits of organic food and farming processes.
Why Go Organic?
Organic means working with nature, not against it. Organic farming practices use the most environmentally friendly farming and production methods possible using fewer pesticides and fertilisers. Products contain fewer additives and preservatives and contain no GM ingredients.
An increasing number of people are buying organic products. Research from the Soil Association shows an increase in 20% in the number of people buying organic products, from food to health and beauty items.

Soil Association
It's better for the environment
Organic farming works with and respects nature. Fewer pesticides and fertilisers result in healthier soil which is 25% more effective at storing carbon in the long-term.
It encourages greater Biodiversity
Organic farming increases biodiversity in plants, animals and insects. Studies have shown there are 75% more wild bees on organic farms plus 50% more butterflies and other pollinators.
Without pollinators we wouldn't have some of our favourite foods such as strawberries and also chocolate!!
Fewer greenhouse gases
The Soil Association has estimated if all UK farming resorted to organic methods then at least 1.3 million tonnes of carbon would be captured by the soil each year. That's like removing nearly 1 million cars off the road at once!
Why Organic September
Organic September is not about suddenly changing to only consuming organic food and drink or wearing only organic cotton. It's simply promoting organic produce and highlighting the benefits. If everyone switched just one or two products each month to the organic equivalent the positive environmental impact would be huge.
Studies have shown a connection between pesticides in foods and their nutrient content, with organic foods consistently rating higher. But organic is not only better for your health it's also better for the planet. Fertilizers as well as pesticides make their way into the soil, water and eventually the ocean. These contaminants in our waterways are leading to ocean dead zones and blue-green algae blooms which can be fatal to marine animals as well as humans.
Adding Organic to your menu
Do you have organic options on your menu? If not you could be missing out on some significant sales.
It's becoming increasingly difficult to ignore the demand for organic food and drink and we're beginning to see more and more cafes with an organic salad, sandwich or soup on their menu.
Soup is one of the simplest options to meet this demand. Devon Roots soup is handmade in Devon using only organic ingredients with many flavours suitable for vegans too. The soup is frozen for freshness and supplied in 2 litre bottles. Simply defrost, heat and serve.
An easy organic addition to menus are organic smoothies. Projuice launched its Organic Smoothie range in 2019 with three delicious flavours. Forest, Red and Sunshine. These have been hugely successful with an increasing number of cafes taking all three as their only smoothie offering. The Organic Sunshine has even won a Great Taste Award!
The fruit and vegetables used in these smoothie sachets are all sustainably sourced, 100% traceable as well as organic. To serve simply blend with juice for 30 seconds.
They sit wonderfully well on menus alongside the three Cheeky Moo Vegan shakes.
Projuice can help with your launch with a range of free and paid-for promotional material
With more people looking to make small changes in their day-to-day lives we will hopefully see by offering organic options we are contributing to less pollution of our water supplies, exposure to harmful pesticides and oceanic dead zones. The benefits are enhancing soil life and fertility, improvement of water quality and deforestation control.
So this September offer your customers a choice and lets put a smile back on the planet with organic.
Find out more @ https://www.soilassociation.org/take-action/organic-living/organic-september/
#chooseorganic #organicsoup #organicsmoothies #projuice #devonroots #cheekymoo #organic