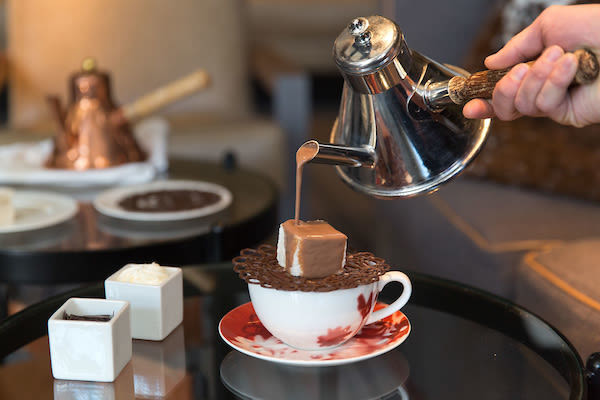 The Worlds Best Hot Chocolate
Hot chocolate should always be a memorable experience, it's a beverage that deserves to be appreciated at your own pace and on your own terms. You can keep your powdery, watery plastic cups of meh! We've searched far and wide to find the ultimate hot chocolate experiences from around the world.
Four Seasons Resort, Vail, Colorado, US
Decadence at its finest! Known as "Haute Chocolate," this indulgent, creamy hot chocolate is made with Valrhona chocolate and steamed milk. It arrives in a traditional French hot chocolate pot and after it's churned tableside, the hot chocolate is then poured into a mug topped with a dark chocolate lattice and a homemade marshmallow nestled inside. As the hot chocolate is poured, the chocolate lattice melts into the cup and the marshmallow makes the already dreamy drink a creamy masterpiece. A true experience!
The Old Chocolate House, Bruges, Belgium
Bruges in Belgium is said to be the chocolate capital of the world so what better place to start. You're spoilt for choice in this quaint historic city but the family run Old Chocolate House is the winner. It boasts an incredible range of chocolates and hot chocolates, varieties include milk, dark, white, and single-origin selections. Try their forbidden hot chocolates, made with spirits like Grand Marnier, rum, amaretto, and Bailey's. Don't forget to top your hot chocolate with to-die-for garnishes like a marshmallow, Rice Krispies treats, whipped cream, or gingerbread crunch. The shop sign states, "The place to be to drink the best hot chocolate" and who are we to argue.
Angelina, Paris, France
Angelina in Paris has been an icon for over a century and renowned for its elegance and sophistication. Their famous African hot chocolate comes from a secret recipe made with cocoa from Niger, Ghana, and the Ivory Coast, specially created for Angelina. The combination of these chocolates from different countries gives the hot chocolate a thick, rich taste, and the fresh whipped cream served with it lends for a luscious experience. One for the connoisseur.
Caffe Rivoire, Florence, Italy
A legend in Florence, Caffé Rivoire began in 1872 when Enrico Rivoire, chocolatier of the Savoy royal family, opened up a shop. Their hot chocolate denso is an Italian version of hot chocolate almost as rich as chocolate pudding, topped with homemade whipped cream.
Kakawa Chocolate House, Santa Fe, New Mexico
Founded in 2005, Kakawa specializes in drinking chocolate elixirs based on recipes recreated from historical sources. Served in small hand-painted mugs from Oaxaca, Mexico these hot chocolates range from pre-Colombian to colonial American to contemporary creations. Varieties include the Chili Elixir, made with spicy chilies, and the Jefferson Elixir, inspired by Thomas Jefferson's own recipe.
La Puerta Falsa, Bogota, Colombia
For a unique hot chocolate experience head to La Puerta Falsa in Bogota. Their Chocolate Completo is a hot chocolate served with a small piece of cheese and buttered bread. Weirdly the sweet hot chocolate combined with salty bread and cheese will leave you never wanting to go back to traditional hot chocolate. Drop small pieces of the cheese into the hot chocolate and let it melt, then use the bread for dipping. Strange but it works!
E.Wedel, Poland
E. Wedel is the oldest Polish brand of chocolate, dating back to 1851. They have created a refined brand of drinking chocolates served in their "Chocolate lounges". Their hot chocolates come in selections like bitter, slightly bitter, milk, double milk, white, and more. You can also get your hot chocolate with flavours like "cherries in wine," and "rose petals"
---
Why not create your own hot chocolate experience in your café with Choc-O-Lait hot chocolate stirrers.
Easily add the Milk Chocolate stick to your menu or for the ultimate choice why not range the full 6 flavours. Your customers will love the experience of slowly stirring in the chocolate and watching it majestically melt as the milk turns darker and darker.
Take the experience to another level and serve with little ramekins of marshmallows, sweets and popcorn!
Revitalise your hot drinks menu with a Choc-O-Lait Bundle.