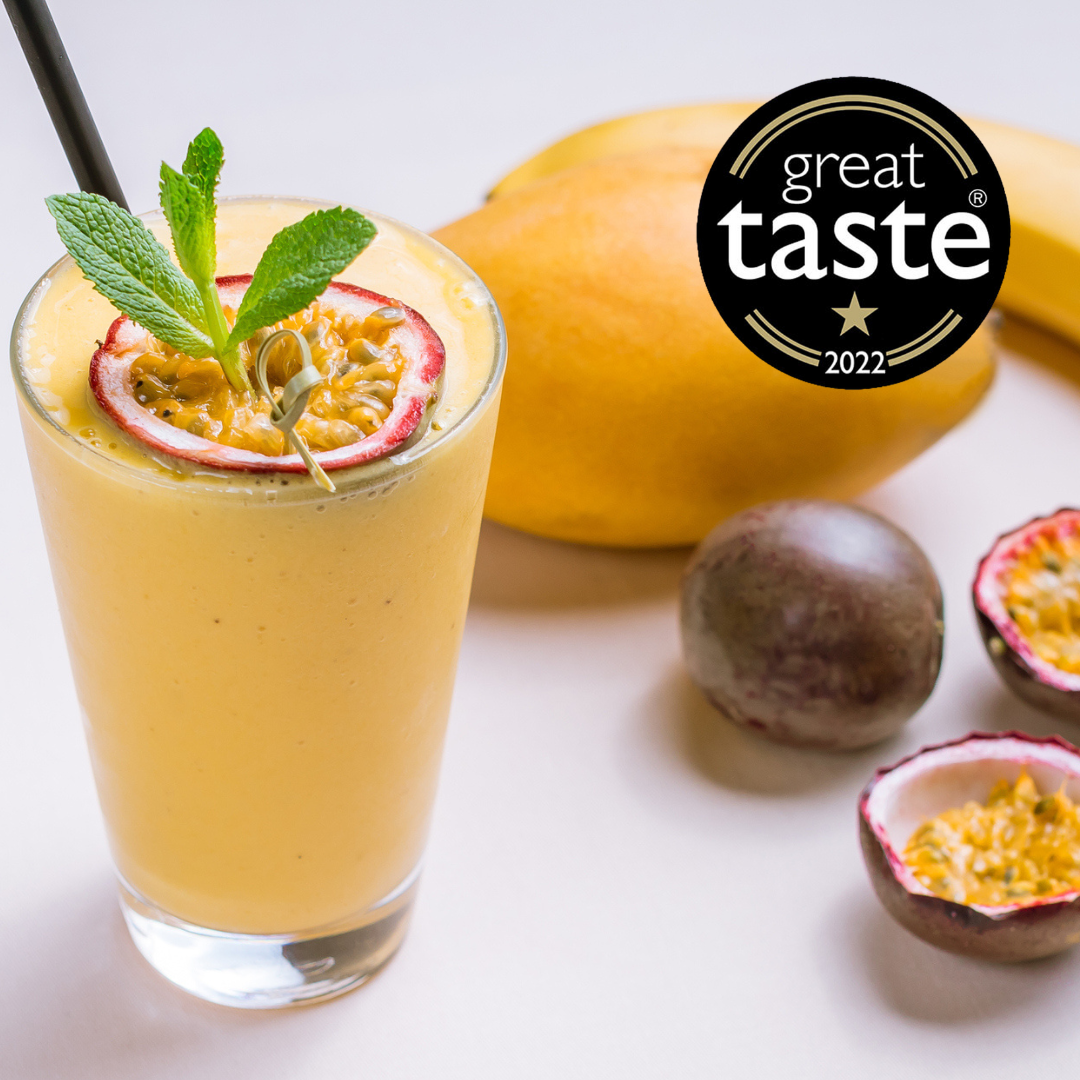 The Best Tropical Café Smoothie Menu
Create a sell-out tropical café smoothie menu! Bring some sunshine to your menu this spring and summer with our tropical fruity smoothie suggestions for your café smoothies! The weather is heating up and customers are looking for tropical smoothies to brighten up their day. Our guide to tropical cafe smoothies has got you covered!
Create a Tropical café Smoothie Menu!
Here are our 3 top picks for your tropical smoothie menu!
Passion Storm Tropical Café Smoothie – this is a Projuice bestseller thanks to its delicious hit of passion fruit! Did you know that our Passion Storm Smoothie is also a super smoothie? Aloe Vera and Guava add the superfoods while passion fruit and papaya do the talking.
Coconut Crush Smoothie – mix up your tropical menu with a coconut-based smoothie! Think virgin Pina Colada! This coconut smoothie will bring that summer nostalgia with every sip. A great option to add to your tropical café smoothie menu!
Tropical Carrot Smoothie – a superfood-boosting smoothie with a subtly sweet yet tropical flavour. This smoothie contains carrot, mango kiwi banana and superfood ingredients Guava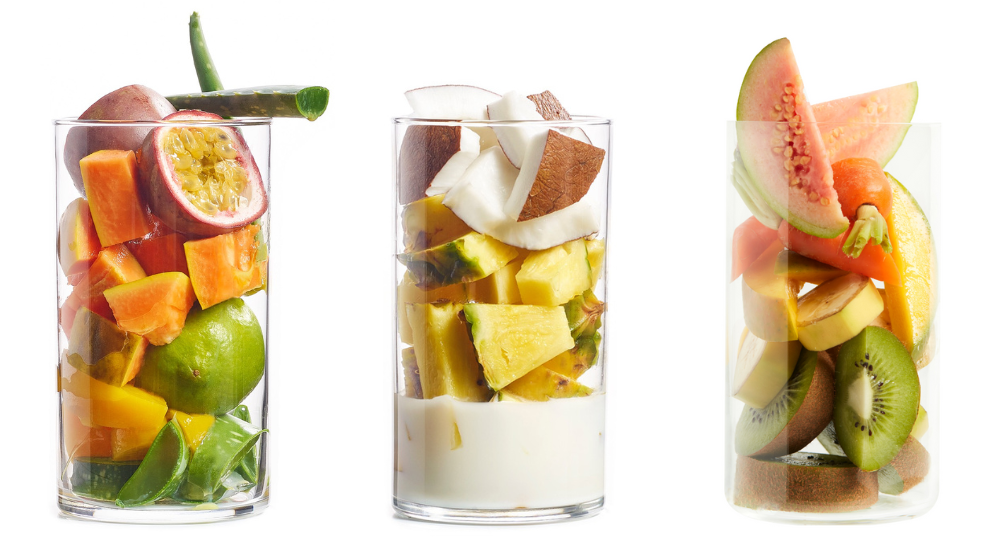 Other tropical smoothie blends:
Pineapple Sunset Smoothie – serve up a hit of pineapple with this classic smoothie containing pineapple, papaya and mango. A safe tropical café smoothie option.
Blue Blast Smoothie – tropical isn't always orange! Our Blue Blast smoothie contains a light yet subtly sweet tropical combination of peach, pineapple, banana, lime and the superfood ingredient spirulina.
Acai Berry Smoothie – acai is a tropical mix of acai berries which come from rainforests in Central and South America. Acai Berries are mixed with mango, strawberries and blueberries for a delicious purple tropical smoothie treat. This is great served as a smoothie bowl too with lots of toppings!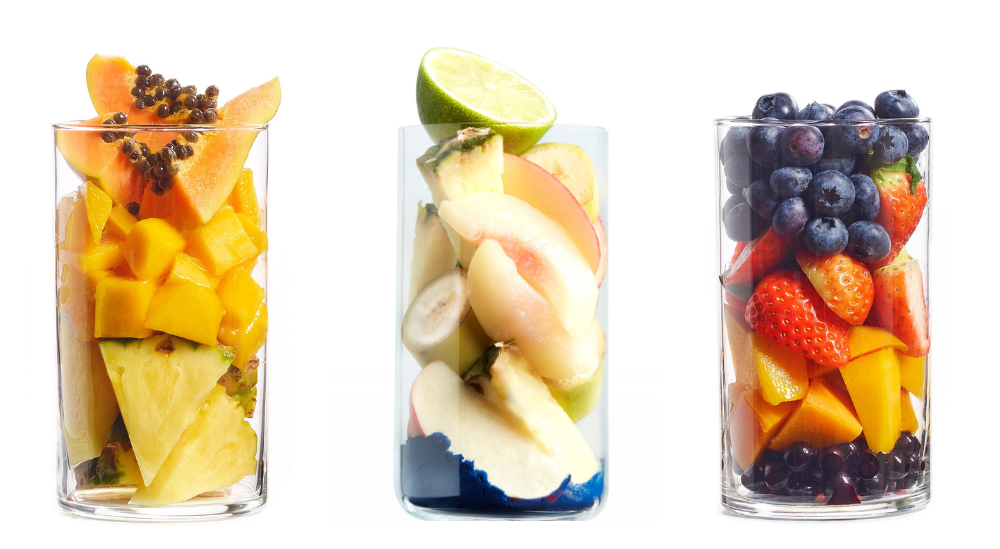 Prefer to go Organic? We have got you covered:
Organic Sunshine Smoothie – as the name suggests, this one brings a little dose of sunshine with it. Made from organic fruits, this smoothie is a delicious blend of passion fruit, pineapple, mango and banana.
Tropical Smoothie Menu
Create a tropical smoothie menu with our new premium Smoothie Menu Boards! We designed our Menu Boards to go on the wall or behind the counter. We have added large commercial adhesive strips so it's super simple to fix to the wall! Each Menu Board comes with a full set of 19 magnetic smoothie flavour cards to match our smoothie range which means you can mix up your menu as often as you like!
The Smoothie Menu Board for your Tropical Smoothie Menu:
Large A2 design
19x magnetic flavour cards to match the smoothie range
Supplied with commercial adhesive strips to fix to the wall
Rounded edge design with a vibrant smoothie graphic makes sure this board promotes your tropical café smoothies in style.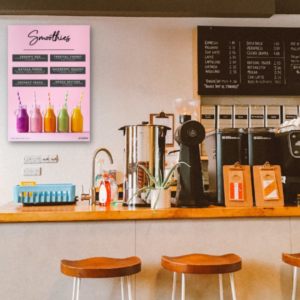 How To Serve Our Tropical Café Smoothie
As a wholesale smoothie supplier, our tropical café smoothies are delivered frozen in pre-portioned sachets to increase speed, reduce waste and offer serving consistency! Our smoothies are delivered in either boxes of 15 or 30 sachets depending on the flavour. All our packaging can be recycled from the smoothie sachets to the cardboard packaging boxes.
Then serve at an RRP of £4.50+!
How to serve our smoothies:
Why Choose Projuice For Your Smoothie Supplies
Projuice are a leading café concept company offering premium, award-winning and sustainably sourced concepts to your café or restaurant. Our aim is to save you time, reduce your waste and offer delicious concepts that your customers keep coming back for.
Shop online now or contact us to speak to our friendly team!