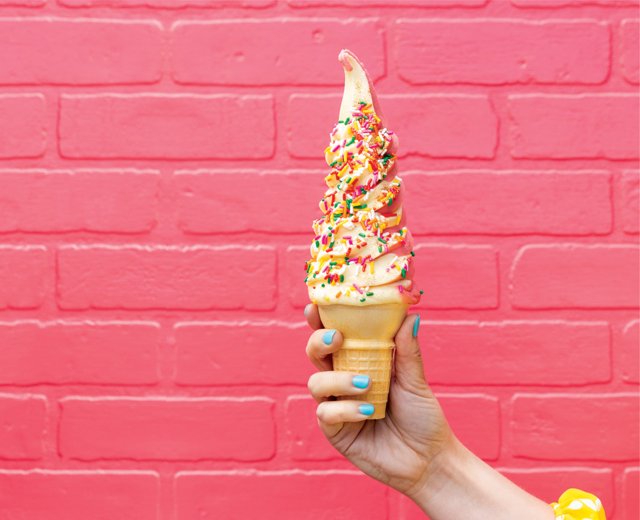 Soft Serve or Scoop
With summer about to begin the demand for ice cream is increasing fast. The familiar chimes of ice cream vans are becoming more frequent, the queues outside ice cream parlours are getting longer and children up and down the country are unleashing their pester-power!
The weather forecast is improving, restrictions are easing, foreign travel is somewhat limited and school holidays are approaching. There has never been a better time to introduce ice cream to your menu.
These days the choice of ice cream out there can be a little overwhelming! How to serve it, how many flavours to offer, what concept to go with? Here we look at the three main options available.
Soft Serve
When most of us think about ice cream we either think about soft Mr Whippy style ice cream or scoop ice cream. Which one you choose will depend on your location, clientele, and available funds.
Traditionally with Soft Serve Ice Cream you need a large commercial machine that uses powder or liquid to create aerated Mr Whippy style ice cream. Although the cost of entry can be high the product cost is low. The machines tend to be quite large and require regular maintenance, cleaning, and sanitising but with the low product cost you can enjoy incredible profit margins.
There are several brands to choose from with the market leaders in the UK being Carpigiani, Taylor, Proserve and Blue Ice. Which model you choose will depend on the space you have available, your budget and whether you want to sell one flavour or two. One flavour countertop machines are the most affordable and you can add variety and extra profit with sauces, flakes and sprinkles. Two flavour machines will usually have a third tap which dispenses a mix of the two flavours in an aesthetically pleasing swirl. If you require advice or guidance, drop us a line and we'll be happy to help.
One Shot Soft Serve
If you would like to add Soft Serve ice cream to your menu but perhaps do not have the space, budget, or time to manage a large traditional machine, then a One Shot dispenser is perfect. Often described as the Nespresso of the ice cream world, these dispensers create a slightly denser soft serve ice cream at the push of a button. Starting from just £795 the cost of entry is much lower and they do not require regular maintenance, no training is needed and require minimal cleaning. You're also not restricted to offering one or two flavours. Simply pop the flavour your customer has chosen into the dispenser and press the button. The product cost is higher than the Mr Whippy machines however you can still enjoy great profit margins of over 60% and the level of convenience, speed and variety is a huge plus!
Scoop
If you prefer to go down the scoop ice cream route, you can choose from traditional scoop ice cream or authentic gelato (with gelato you should use a spatula rather than a scoop!)
Depending on your budget and available space you can offer a few core flavours or invest in a large, dedicated freezer with an ever-changing array of flavours.
There are several companies out there offering deals with freezers and stock to get you up and running. Marshfield Farm, Sidoli's, Yarde to name a few.
Depending on the size and quality of the freezer the initial set-up cost can vary widely – a top end gelato freezer will easily cost over £2000 but a small four flavour freezer will be considerably less. Display freezers can also increase your energy bills considerably – depending on the size and model of course.
Increase your profit further and build some brand loyalty by offering takeaway tubs for home-use. You'll need a separate freezer for this so only for outlets those with plenty of space.
If you go down the scoop route you may want to consider offering a choice of frozen yogurt and sorbet with a One-Shot dispenser.
There are other ways to include ice cream on your menu – in recent years you may have seen Thai Ice Cream Rolls for sale – this is ice cream theatre at its finest! Originating in the streets of Bangkok in 2009, liquid ice cream is poured onto a ice cold "frying pan" and scraped up into rolls served in a tub with various toppings and treats. Other weird concoctions we have seen are ice cream tacos and even ice cream hot dogs!