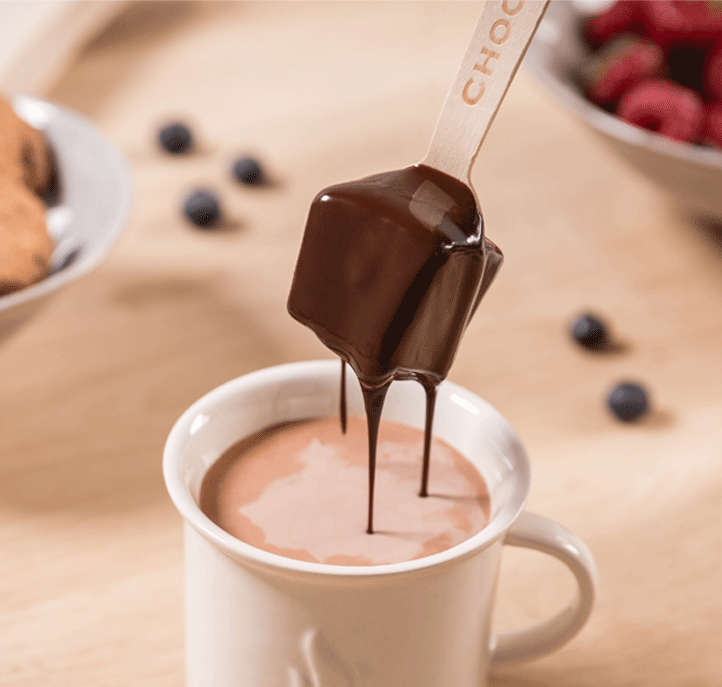 3 Things to Look for In a Wholesale Café Hot Chocolate Supplier
The high street is feeling the pinch and cafes like you are looking for new ways to offer luxury products with great margins. With cold temperatures and dark skies, this is prime time to be stocking hot chocolate for both dine-in and takeaway.
For cafés looking for a new hot chocolate provider, or indeed some new café hot drinks, the choice is vast. We have created a simple guide with 3 things cafes should look out for when selecting a new café or wholesale hot chocolate supplier. And who is the best in the market to deliver quality and taste that will drive revenue. 
The different ways to make café hot chocolate
Make café hot chocolate yourself
Making your own café hot chocolate often looks a little like starting with hot chocolate powder or chocolate flakes. We would always recommend the highest quality chocolate you can find. Ditch any powders, particularly because they contain a multitude of other flavours and additives. If people are ordering a hot chocolate, they are usually looking for a treat. Up the indulgence with frothy milk, cream, and toppings.
Pro tip – Chocolate is a very emotive product and works well throughout the year if used cleverly. Look out for seasonal occasions to promote hot chocolate – think Valentine's Day, winter warmers, takeaway, and even dessert options!
Use wholesale cafe hot chocolate spoons or sticks for a luxurious experience
Regardless of the quality of hot chocolate powders and flakes, these are often weak in flavour and lack that little extra indulgence. What's more, a large element of hot chocolate experience sits with the member of staff making it. The real magic for consumers is watching the hot milk transform into a rich and delicious hot chocolate.
Go a step further. Achieve a real premium out of home hot chocolate with hot chocolate spoons or sticks that melt into hot milk in minutes. Serving the milk with one of these on the side is also a real show of the quality of product you are using, since these are most often made with solid chocolate.
Pro tip – It is reported that consumers are interested in trying new hot beverage flavours and are seeking a selection of different flavours to try. Offer multiple flavours such as caramel, mint and white hot chocolate to increase interest in hot chocolate offerings.
Further reading – take inspiration from some of the greatest hot chocolate experiences around the world with our blog The World's Best Hot Chocolate. 
3 things to look out for in a wholesale café hot chocolate supplier
Research shows that when it comes to chocolate, consumers are interested in where the chocolate was sourced, the packaging and of course taste! These are the top things you need to look for in a hot chocolate wholesale café supplier:
Provenance
67% of consumers globally want to know where their chocolate is sourced from and what is in it. Londoner's, particularly, are interested in the ethics of their chocolate brands.  
Quality
Great quality means great taste. Look for providers that champion quality and who focus efforts on growing for flavour, sustainability and Fairtrade. 
Packaging
Look for packaging with recyclable components and as hygienic as possible. If you're a café, stock storage is undoubtedly a big consideration so look for carefully packaged products that maximise stacking capability. 
The original café hot chocolate sticks and spoons
At Projuice, we have collaborated with premium chocolate suppliers including Barry Callebaut to produce our own unique hot chocolate experiences for café hot drink menus through Choc-O-Lait. We have two Choc-O-Lait options:
Premium Choc-O-Lait hot chocolate spoons made from 100% Belgian chocolate
Luxury Choc-O-Lait hot chocolate stirring sticks with a ganache centre for the ultimate hot chocolate indulgent experience.
We focus on quality – Barry Callebaut uses 100% pure Belgian chocolate in all their products for optimum quality and taste. This makes our Chocolait rich and indulgent for a real treat.
Each step to great tasting chocolate is carefully managed – we work closely with suppliers to master every step in the value chain from the sourcing of raw materials to the production of the finest chocolates.
We partner with sustainable and ethical suppliers – The Barry Callebaut Group have strong philanthropic values, including prospering farmers, zero child labour, sustainable ingredients and giving back to nature through initiatives such as ecosystem restoration.
Why choose Projuice as your wholesale café supplier?
Create café hot chocolate fast
Produce a cosy and delicious experience for your customers in minutes:
Heat milk.
Serve the milk with the Choc-O-Lait flavour of choice.
Invite the customer to stir their Belgium chocolate into the milk and enjoy!
Direct delivery
We use DPD couriers for our Choc-O-lait deliveries. This enables us to offer next-day working day delivery to cafes nationwide so there is no delay for your Choc-O-Lait!
Get started overnight
We have created café hot chocolate starter bundles so you can test our different concepts and range of flavours in your café. These also include promotional material so you can tempt your customers with something a little extra special. 
Discover our full range of Choc-O-Lait flavours and bundles online. Or get in touch for further information and recommendations.