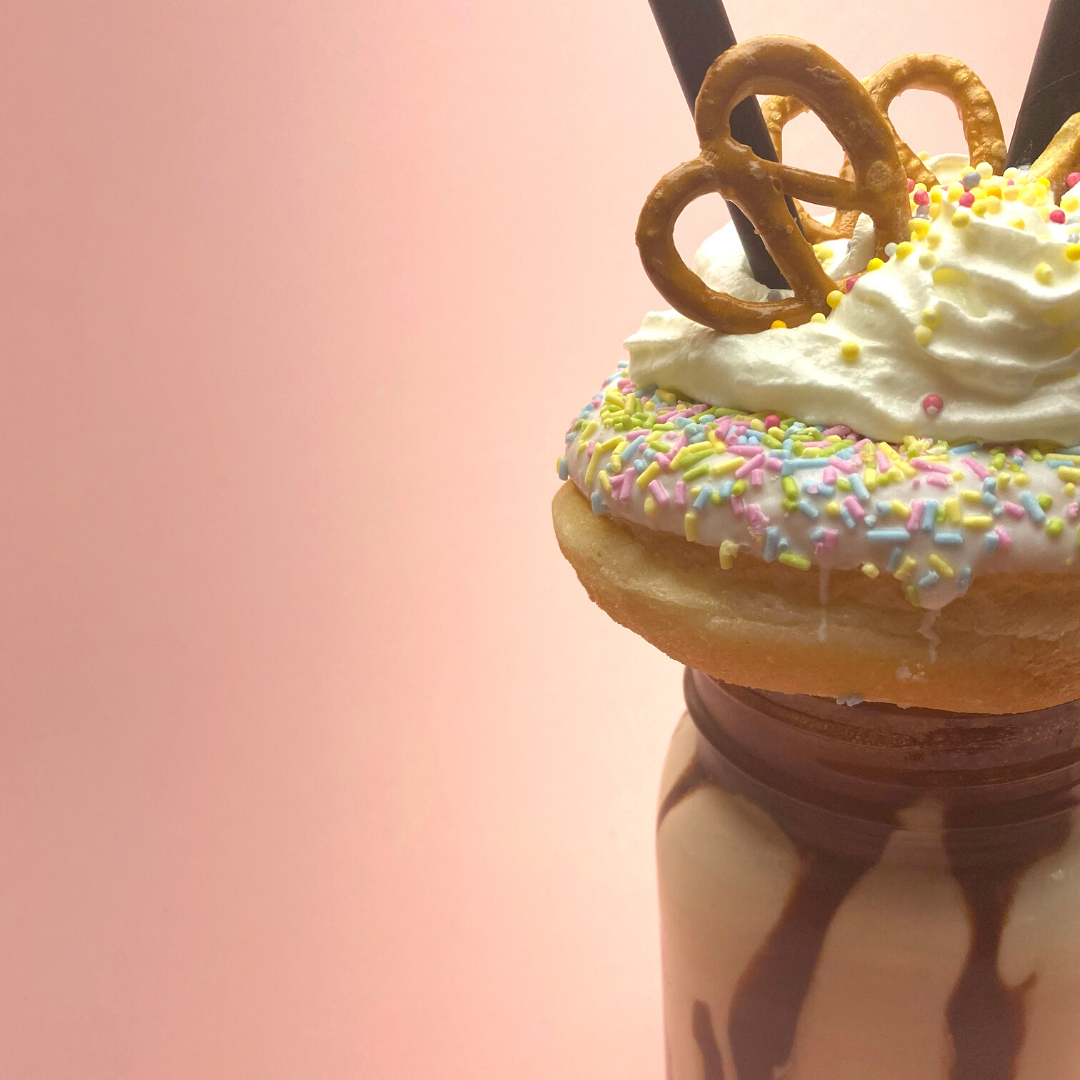 3 Ways With Shakes: Coffee Milkshakes, Easter Shakes & Freak Shakes
3 exciting ways to use milkshakes on your menu combining coffee, Easter themed treats, and ultra-indulgent sweets.
Iced coffee's boomed last year with many consumers seeking new way to elevate their coffee experiences with drinks such as frappes, iced coffees and coffee milkshakes. For café's not already on the hype, coffee shakes are a great choice moving into the warmer summer season. Combining milkshakes and espresso (a winning combo!) these are also a quick win for adding a little something different to the vegan beverage options too.
Perfect for coffee shops, cafes and desert restaurants looking for exciting ways to shake up the milkshake menu.
1. Freak Shake
Elevate your shakes! Freak Shakes are a great way to dress up milkshakes to a higher price point and add an extra indulgent upsell option! For this recipe we used a salted caramel base.
Salted Caramel Freak Shake Recipe
You will need:
1x 250ml tub of Cookies and Cream Milkshake
200ml milk of your choice. We recommend full fat milk for our dairy shakes or soya or oat milk for our vegan shakes.
Chocolate or caramel sauce
Plenty of toppings!
Method:
Empty the milkshake tub into the blender
Add milk
Blend for 20 seconds and serve.
Top with cream, biscuits and plenty of sprinkles and sauce.
Blend your café smoothie and pour into a recyclable takeaway cup or glass with a straw
Then, add some berries or a slice of fruit on top, or cut into a wedge on the side of the glass
Finish with a sprig of mint, a twist of orange zest or a sprinkle of chia seeds.
Pro tip: Swirl sauce around the edge of the glass before serving to take your shake to the next level.
We recommend starting freak shake prices from £4.95 onwards on your café or coffee shop menu.
If you don't have one of our milkshake tubs to hand, you can blend your own with frozen yogurt or ice cream and milk.
2: Easter Egg Milkshake
Easter calls for some egg-citing easter menu ideas. Top of the list for cafes and desert parlours is our mini egg milkshake recipe!
Easter Milkshake Recipe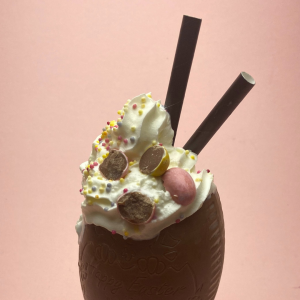 You will need:
Milkshake of your choice – vanilla, banana, mint choc chip or strawberry work well with the chocolate easter egg.
200ml milk of your choice
1x Easter egg
Squirty cream
A handful of Mini Eggs, crushed
Sprinkles
Method:
Leave a sharp knife in boiling water for 20 seconds before cutting the top off the easter egg. Then leave in the fridge or freezer until ready to serve.
Empty 1 milkshake tub into the blender
Add 200ml milk
Blend for 20 seconds and serve in the chilled easter egg
Top with squirty cream, crushed mini eggs and sprinkles. Make sure to add a straw!
We recommend starting your Easter egg milkshake prices from £5.95 onwards on your café or coffee shop menu.
Pro tip: Serve half portions for children's drinks in a mini Easter egg!
3: Coffee Milkshake
Ever tried a smoothie bowl on your café menu? We have used one of our super smoothies blended into a One for the coffee lovers. An alternative to frappes, this coffee shake is a blended mix of vanilla milkshake with a strong espresso hit. Perfect for summer and works excellently for both dine in and takeaway options.
Coffee Milkshake Recipe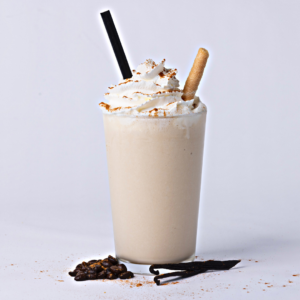 You will need:
1x 250ml Vanilla Milkshake tub
140 ml milk of your choice
Double shot of espresso (60ml)
1 shot of caramel syrup (optional )
Pro tip: to create a vegan option, use a vegan vanilla milkshake instead as the base for this drink! We recommend cafés use oat milk for vegan shakes for the best flavour.
Method:
Empty the milkshake tub into the blender
Add a double shot of espresso
Add a single shot of caramel syrup (optional)
Add the milk
Blend for 20 seconds and serve!
We recommend setting coffee shake prices from £3.95 onwards.
Further reading: 3 ways with smoothies! 3 smoothies, 3 different recipes, 3 price points. We break down our top menu ideas for driving extra profit with smoothies.
Why Choose Projuice For Your Milkshakes
Projuice has everything you need to make the perfect milkshake. Choose from 8 dairy milkshake blends and 3 vegan shake blends. Our top flavours are the cookies and cream, strawberry whip and Great Taste Award Winning, Vegan Chocolate!
At Projuice, we pioneered the first ever pre-portioned, frozen milkshake in a tub. Our 250ml tubs use paper packaging and contain one single serving so there is no product waste!
We focus on high quality ingredients to create premium café concepts. All our milkshakes are made with ice cream and frozen yogurt, real fruit infusions and milk from grass fed cows!
Get everything you need to get started from straws to cups to blenders and more. We also stock bundles that contain everything you need to get started – even including POS!
Shop the full range of café concepts online now. Or get in touch to discuss stocking your cafe.