New Launch: Coffee Milkshakes Concept
Cold coffee based drinks saw huge growth last year following consumer trends in looking for new and exciting ways to enjoy their coffee. The UK Coffee Report of 2021 highlighted that consumers are interested in upselling to more expensive coffee beverages to enjoy. So what does this mean for cafes, baristas and coffee shops?
People are searching for more exciting ways to enjoy their coffee fix! Think cold brew coffee milkshakes, iced coffee milkshake concepts and anything with a coffee flavour! There are many different types of coffee drinks, but how do you make your menu stand out?
Taking Cold Coffee to the Next Level
A new launch for Projuice
No frappe powders, coffee coolers or iced coffee here. Projuice are excited to be taking your coffee menu to the next level with the launch of a new concept. In case you hadn't already guessed… thick, indulgent, ice cold Coffee Milkshakes! Combining our frozen, thick and creamy milkshakes in dairy and vegan flavours with espresso from your coffee machine. Take coffee to another level for a match made in heaven. And they're perfect for the vegan coffee lovers too!
We have created a menu of sweet and delicious thick shake recipes. Use our premium milkshake tubs as the base, then blend with espresso from your coffee machine. This creates a perfect thick, frozen coffee milkshake. These are not a patch on even the best ice coffee drinks!
Our milkshakes are made with real ingredients and infusions – no milkshake powder and no ice needed! We are more than frappe or iced coffee suppliers. Using our history as an award winning wholesale milkshake supplier, we carefully choose whether to use a yogurt or ice cream base for our shakes so that we balance out the sweetness – no one likes a sickly sweet shake! Add the coffee flavour on top and you've got an exciting addition for coffee shops, cafes and any coffee mad customers! Or a great new menu idea for anyone already selling our shakes. These can be added onto existing coffee beverages and milkshake menus!
Serve Coffee Milkshakes in Minutes: Coffee Milkshake Recipe
The process for our coffee milkshakes is super simple: add a double shot of espresso, milk and either a dairy or vegan frozen shake tub to a jug, blend and serve!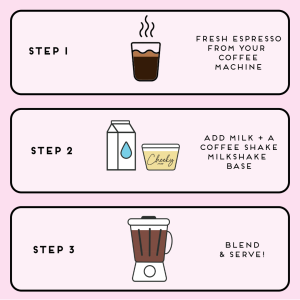 We have taken the hard work out for you by creating delicious frozen milkshake bases that compliment the coffee flavour perfectly, and even better, blend into a thick espresso shake in just 20 seconds!
Vegan Coffee Milkshakes
Coffee shakes are not just for the dairy lovers. These espresso coffee milkshakes can be enjoyed by vegans too thanks to our range of vegan milkshakes which complement the espresso flavour perfectly. Did you know that our Vegan Chocolate Milkshake is so good that it's won a Great Taste Award?
We are bringing to the table two recipes in our bundle for vegan coffee shakes:
The classic Vegan Vanilla Coffee Milkshake – combine our Vegan Vanilla Shake Base with a double espresso and either Soya or Oat Milk for a classic vegan coffee shake. We recommend using Soya Milk for these – this vegan milk combination came out top in our taste testing!
Vegan Mocha Coffee Milkshake – our award winning Chocolate Chip Shake Base combined with espresso creates a thick chocolate coffee shake with lots of texture from the blended chocolate chips – this one uses our Great Taste award winning shake!
Dairy Coffee Milkshakes
For those looking for a dairy cold coffee shake, we have two options.
Vanilla Coffee Milkshake– use our classic vanilla frozen yogurt based milkshake and blend with a double espresso and whole milk for a classic thick coffee shake
For the dairy shakes, we recommend using semi skimmed or whole milk for these for a rich and creamy flavour!
Everything You Need to Add Coffee Shakes to Your Menu
Projuice has everything you need to make the perfect coffee milkshake for both vegans and diary lovers with our Coffee Shake Bundle. Our bundle includes the milkshake bases, recipe instructions and free promotional material to launch the coffee shakes!
The Coffee Shakes Bundle Includes:
Check out the full bundle details and price here.
At Projuice, we wanted to make milkshakes easy for our customers. That's why we created the first pre-portioned and frozen milkshake tubs to reduce the time to serve, improve product consistency and cut product waste! Over recent years we have also updated the sustainability of our shake tubs to use paper packaging!
Choose from 8 dairy milkshake blends and 3 vegan shake blends. Our top flavours are the cookies and cream, strawberry whip and Great Taste Award Winning, Vegan Chocolate! All in single, 250ml pre-portioned tubs that can be blended in just 20 seconds.
Further reading: Check out 3 ways you can use milkshakes on your menu.
Get everything you need to get start selling Coffee milkshakes with commercial blenders, straws and cups for takeaway and much more.
Shop the full range of Projuice café concepts online Or if you'd like to discuss anything with our team, get in touch so we can help you out.