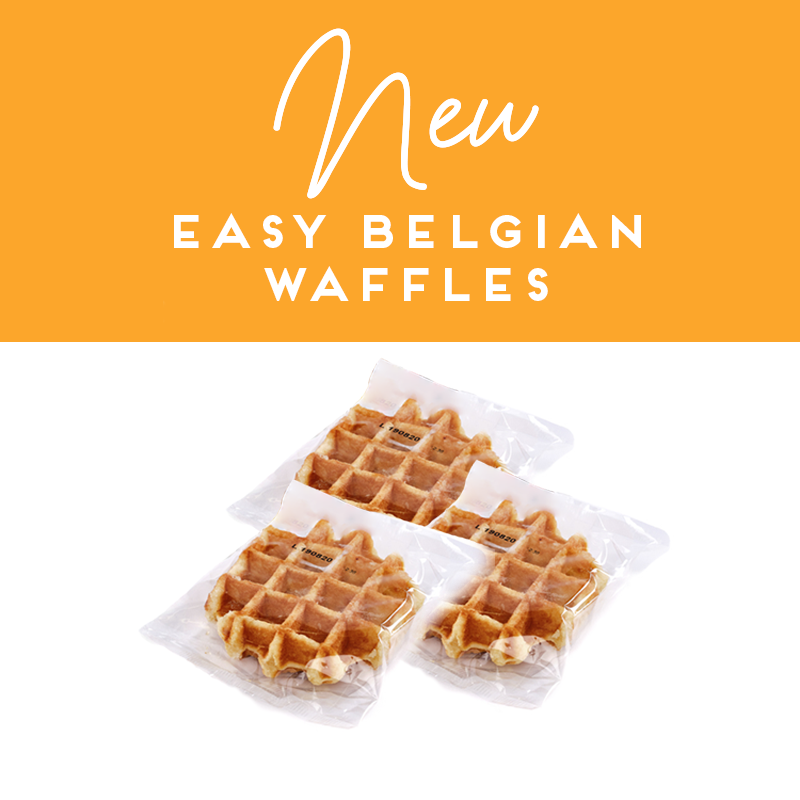 Projuice Launches NEW Individually Wrapped Belgian Waffles!
Projuice's new waffle launch makes it faster and easier to serve premium Belgian Liege Waffles on your menu. Looking to sell a premium waffle offering? Don't want to invest in expensive waffle iron equipment? The New Individually Wrapped Easy Belgian waffles are pre-cooked, individually wrapped and super easy to serve – simply heat them in the microwave and serve!
3 reasons why you need to try Individually Wrapped Belgian Waffles!
1. Fast and simple to serve
We have done the proving and waffle iron cooking for you! Heat in the microwave in seconds for super crispy, indulgent, and easy waffles!
2. Little storage required
Unlike the Liege Waffle Dough, our individually wrapped waffles can be stored ambient for up to 1 week once defrosted. Or heat straight from the freezer for less wastage.
3. No waffle iron needed
Our packaged waffles only need heating in a microwave. This means you don't have the cost of a waffle iron!
How to serve Individually Wrapped Belgian Waffles
Remove from packaging
Microwave for 30 seconds if defrosted or for 60 seconds if frozen
Leave to stand for 1-2 minutes & serve naked or with toppings!
The Easy Belgian Waffle Dough recipe
There is no waffle batter or powder here. Our Easy Belgian Waffles are made using an authentic, certified recipe. The recipe combines a brioche-like yeast dough using high-quality ingredients with pearl sugar, a small chunk of sugar that holds its shape in cooking. The result? Crispy, golden waffles with pockets of crunchy sugar – incomparable to any other waffle offering!
The New easy waffles take the time and effort out of prepping the dough yourself! This means you can serve more Belgian Liege Waffles faster without the need for defrosting, proving and cooking using expensive Waffle Irons!
Save 10% on your first order of Individually Wrapped Belgian Waffles!
There are 2 ways to purchase the new Easy Waffles for your menu:
Get 10% off Easy waffles in our introductory Easy Waffles Bundle offer! Get 6 boxes of waffles (120 servings) with delivery and promotional material included!
Alternatively, buy by the box in our wholesale 20x 90g boxes of Easy Waffles.
Buy online with next-day delivery available! Want to see how easy and tasty they are? Contact our friendly team to arrange samples.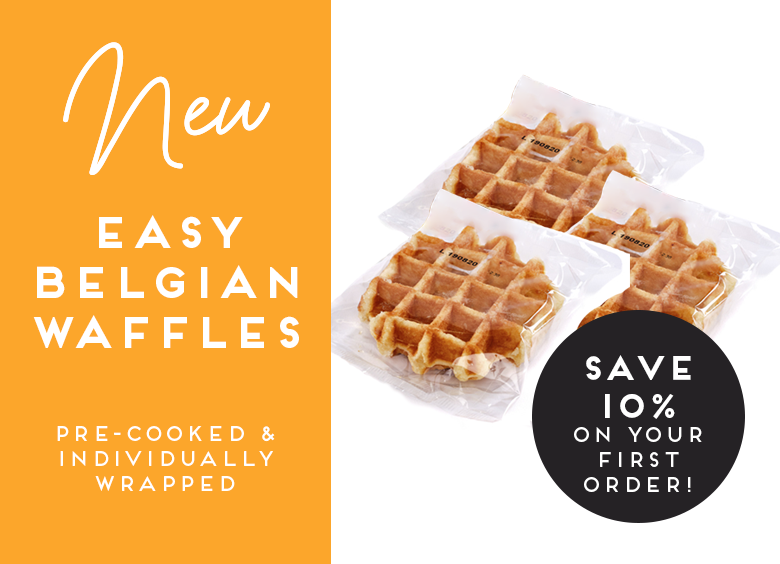 Why Projuice?
Projuice are the leading supplier of café concepts nationwide! We offer award-winning, premium and sustainably sourced café concepts with next-day delivery available.
Get everything you need to get started and make excellent margins with Projuice. Choose from seasonal product bundles, promotional material, equipment and cups, lids and straws!
Shop now or contact us if you've got any questions.