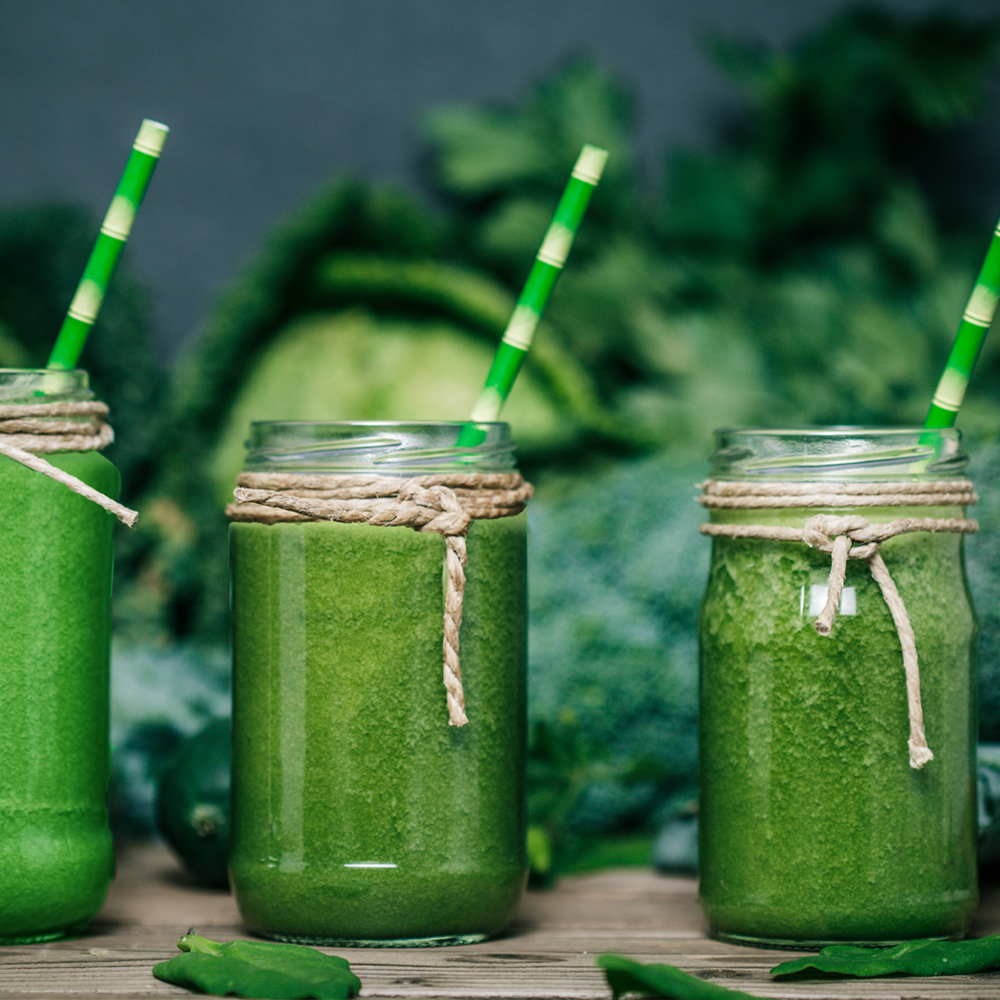 Go Green with Green Smoothies
The demand for Green Smoothies has noticeably increased in recent years with more and more coffee shops, cafes, gyms, and farm shops now offering at least one green option on their smoothie menu.
This increase in popularity is down to the desire for healthier on-the-go food and drink, innovative new recipes, and the wider availability of unique ingredients. No longer do you have to pinch your nose and close your eyes when drinking – no longer do you have to compromise on taste for a healthier smoothie option.
Here we look at some tips on how to make the ultimate green smoothie, some new trends plus some innovative recipes.
If you have decided to add Green Smoothies to your menu, your first decision is to make your own or use frozen packs/sachets.
Making your own Green Smoothies
If you decide to create your own recipes using bulk frozen fruit and vegetables, then your options are only limited by your imagination! This allows you to offer an ever-changing menu, bespoke blends and unique recipes, great for increasing customer loyalty and retention rates. There are however challenges with regards to consistency, wastage and managing stock.
Creating your own recipes relies on good staff training to ensure every customer receives the same great tasting smoothies every time they order. There is nothing more disappointing than enjoying a delicious smoothie from a café on one day but to return and be served something sub-standard the next. Your recipes need to be written down and kept in a safe, visible place. Let your staff practice until they become smoothie experts!
Frozen Smoothie Packs/Sachets
An easy, quicker option are frozen smoothie packs. These are set recipes containing 150g of frozen fruit and vegetables. Simply add the contents of the sachet to a blender along with 200ml of juice and blend for approximately 30 seconds. Using sachets guarantees consistency, eliminates waste as well as being easy to monitor stock, profit, and popularity. Plus training your staff is quick and easy.
The Smoothie Sachet was invented in 2004 by Projuice to speed up service, increase consistency and eradicate waste. There are now several companies in the marketplace offering similar products, however Projuice are the only ones with the technology and capability to include unique ingredients such as lemongrass. For example, in the Green Reviver the banana is coated with lemongrass puree to achieve the popular distinctive award-winning taste. All the fruit and vegetables are sustainably sourced and 100% traceable. Projuice offer a choice of three green smoothies.
Fresh fruit and veg
This is something we wouldn't recommend on a commercial scale. To achieve the right texture, consistency and temperature (no-one wants a warm smoothie!) you will have to add ice which can dilute the taste. It's also a challenge to manage waste as obviously fresh fruit expires quickly and can eat into your profits.
Green Smoothie Tips
Blend it
Make sure your blender is up to the job! If you're going to be blending frozen fruit and vegetables on a regular basis you'll need a commercial blender that won't let you down. The market leader is Blendtec with its popular Connoisseur 825 model – however this comes with a price tag and spares and parts can be expensive. An alternative is the Problend 950 which has been designed specifically for both smoothies and milkshakes and is available for significantly less with affordable spares and parts.
Sweetness
If you're creating your own green smoothie recipes finding the right level of sweetness can be a fine balancing act. Banana is great for adding sweetness as well as neutralizing the bitterness often present in green leafy vegetables. Pineapple and strawberries are also both excellent at adding fruity sweetness. Blending your green smoothies with juice will add a nice level of sweetness and we recommend apple and pear juice – a sweet yet mellow blend which perfectly matches both fruit and veg based smoothies. For a less sweet smoothie try blending with coconut water or add a splash of lemon/lime. If you're choosing smoothie sachets, these recipes have gone through rigorous taste testing to produce perfectly balanced combinations of fruit and veg. The level of sweetness can be adjusted by your choice of blending liquid.
Thickness
The number one rule for thickness is to always use frozen fruit, combine this with the right ratio of juice and a suitable blender and you will always get a good result. If you accidently add too much juice when blending and need to thicken your smoothies try adding a few ice cubes or a scoop of frozen or vanilla yogurt. More fruit and veg would also work but this could alter the end taste.
On the flip-side if your smoothie is too thick simply add a touch more liquid and blend again.
Creaminess
When it comes to adding creaminess to your green smoothies there's one vegetable that's king…..frozen avocado adds an unrivalled silky depth to green smoothies. Plus it's mild flavour hides its super nutritional value. Of course you can add creaminess by adding frozen yogurt or ice cream but to keep it pure you can't beat a bit of avo!
Green Smoothie Trends
Organic
Organic produce is showing no signs of slowing down and customers are increasingly concerned about the quality and origin of the foods they consume. Made with fruit and vegetables that are not sprayed or ripened with harmful chemicals and pesticides, its predicted Organic Smoothies will continue to rise in popularity for years to come.
Projuice's Organic Forest smoothie is a popular choice for many cafes with its combination of spinach, lime, banana and pineapple. This along with the two other organic smoothies (Red and Sunshine) make a perfect addition to any café smoothie menu.
Origin & Quality
Along with the demand for organic goods consumers are also increasingly interested in the origin and quality of the products they consume. Using traceable, sustainably sourced ingredients will begin to play a more and more important part in consumer decisions.
Bowls
Acai smoothie bowls have been around for some time now and their popularity shows no signs of slowing down. In fact we're seeing expanded smoothie bowl menus appearing up and down the country and not just limited to acai. Creating green smoothie bowls is a great way to revitalise your smoothie menu, your profits and your customer retention rates. To create a smoothie bowl simply blend your green smoothies with a little less juice, pour into a bowl, top with neat lines of granola, fruit, seeds and/or nuts and serve with a spoon! Our Super Green Smoothie makes an excellent nutrient rich smoothie bowl and looks fantastic topped with sliced avocado, granola, toasted coconut and dried cranberries.
Customisation
We're seeing a growing trend for consumers demanding some level of customisation with their smoothies – we wouldn't recommend offering too many options, but a few choices will keep your customers interested. Examples include adding a scoop of frozen yogurt, peanut butter or flax seeds. Why not give your customers a choice of what their smoothie is blended with – juice, water, milk for example.
Green Smoothie Recipes
If you're new to green smoothies we recommend starting with smoothie sachets. A simple, quick and easy way to test out demand. Projuice offer three green flavours including the Green Reviver Smoothie, the only smoothie to win two stars at the Great Taste Awards and its unique blend of Kale, Banana, Lemongrass and Mango really is a taste sensation.
Many hours were spent in the kitchen perfecting the recipe for the Super Green Smoothie. This blend of Spinach, Avocado, Lime, Apple, Basil and Spirulina is a nutrient rich combination that packs a big flavour punch.
So there you go – go green this summer, paint the town green and drink your greens!