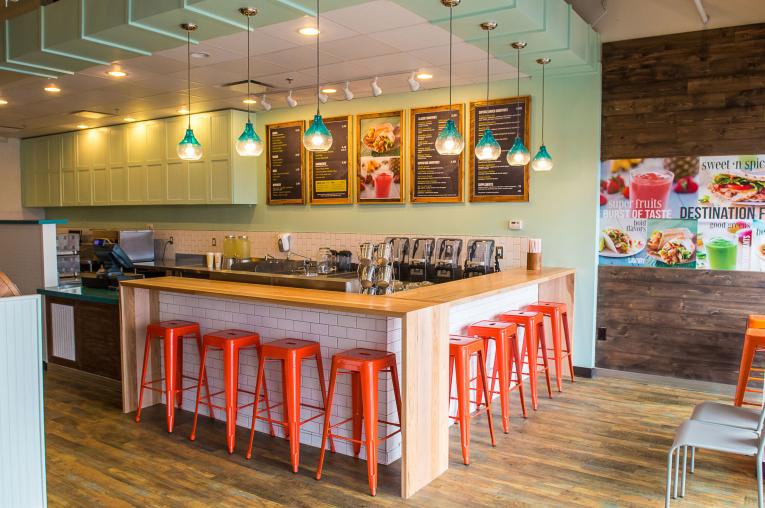 Top 10 Cafe Hacks
Top 10 Cafe Hacks: Running a cafe can be challenging and any way to save time, money and improve efficiency is a godsend. Our pre-portioned smoothie, shake and ice cream concepts certainly make life easier and a great way to save time, money, waste and improve consistency of your end product.
With the 17th May fast approaching and customers being welcomed back, we thought we'd look at other ways to improve efficiency within a busy cafe. Top 10 Cafe hacks to keep your customers coming back as well as saving you money, time and cutting down on waste.
1: Train your staff
Whether it's a cappuccino, a smoothie or a milkshake make sure your staff know how to make them. Consistency is key to customer retention. If a Green Reviver smoothie is a different thickness each time they order they'll start to look elsewhere. If you have our smoothies and shakes on your menu use our training videos to help offer quality drinks every time.
2: Workflow 
Having good workflow is how you keep everything fast and consistent even when it's busy. This means everything from having the right person in the right place, to making sure your blenders are in the most convenient place to allow the speediest service possible. Are your cups kept somewhere that is really difficult to get to? That's going to slow service down. Take a step back and look at your set up, what can be done to improve your workflow? It may only help a second here or there, but good workflow makes all the difference when the pressure is on.
3: Keep it Interesting
Customers can be a fickle bunch and you need to keep them interested and engaged.
Introduce new flavours, experiment with recipes – have a set day every week where you list a new flavour or recipe. Milkshake Monday or Toastie Tuesday or Smoothie Saturday. Don't change your menu radically – customers will still want to order their comfort food and drink but having something new every now and then will keep them engaged and returning.
4: Listen to your staff
Your baristas or smoothie artists are the ones serving customers day in day out, they're on the frontline, so listen to them and learn from them. Have a weekly idea sharing meeting or a suggestion box. A customer suggestion box can also come up with some great ideas!
5: Use the right equipment
You'd be surprised at the number of cafe owners who try to blend smoothies with a domestic blender or create a flat white with a sub-standard machine. This will only lead to complaints and having to remake drinks costing you time and money. Invest in the right equipment and do it right first time!
6: Subscription/Loyalty Program
There are many ways to introduce a subscription program. All the coffee you can drink for a monthly fee? Pay an amount each month for a set number of smoothies at a discounted rate?
It could be a simple loyalty card – order 9 smoothies get your 10th free. Buy three smoothies in one visit get the fourth half price. Be imaginative and go bananas – your customers will love it and you'll be securing their ongoing custom.
7: Keep it clean
Not the most exciting point but perhaps the most important. Cleaning as you go is crucial in running an efficient service. Clean your blender jugs and replace to their correct storage position. Have a cleaning checklist, ensure your staff are following it and never leave it to the morning. There's nothing worse than opening a dirty cafe at the crack of dawn. This should be time for preparation and focusing on the morning rush.
8: Be nice
A simple one but it can make a huge difference to customer retention and satisfaction. Ensure everyone in your cafe is tuned into great customer service. Communicate, smile, eye contact and manners are easy ways to keep your customers happy.
9: Get Social
Social Media is a great free way to access your potential customers – the average social media user spends 5 years of their life scrolling! So convert your Instagram profile to a 'Business Page', write a short bio including contact details and opening hours. Start posting high quality images of your drinks, meals, decor and staff and see the difference.
10: Count daily
Doing a daily inventory ensures no usable food is wasted! Don't throw away what you have leftover – rework it into a special or get creative, like making day-old bread into croutons or bread pudding.